What with Lara Croft getting rebooted, according to both
Eidos
and
Hollywood
, last week
SPOnG took a look
at who could play her in the next live action
Tomb Raider
film. This week we've decided that because a reboot simply might not work, it's time for us to help the world's developers out.
Frankly, it's about time we had some more strong female video game characters to take us even more deeply into the 21st century.
Sure we've got Faith from
Mirror's Edge
; Elika from
Prince of Persia
; yes, there's always Samus (for those who like the more elderly ladies); Zoe and Louise from
Left4Dead
; and there's Meryl Silverburgh from
Metal Gear
of course. None of them, however, really has the global star clout that Lara wields.
So, in order to short-cut the whole "media industry is interconnected" thing and to help out games devs, SPOnG has selflessly come up with a set of new female characters. Not only that but we've also nominated the actors we feel will best fit the roles. This latter element will - of course - enable better mo-cap and will also get the movie of the game in the works ASAP.
As ever, it's my task to do the hard work. So, here are the candidates for SPOnG's New Video Game Chicksim...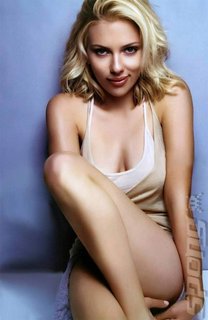 GAME NAME:
Damned Close to Dead
:
GAME TYPE:
Open World Action. (Xbox 360 and PS3).
"The fog steals in over the city like a dark slime, coating everything around it in a deep grey gloom that's illuminated only by the brief flare that puts fire in my cigarette. I suck on cancer, letting myself forget for a moment that there's a girl lost in that dark monolith of art deco spires and vile crime before me. Taken by bad men who'd do her wrong, with only 24 hours to live. If I don't save her, who will??
CHARACTER NAME:
Marlowe Rose
: Daughter of a murdered police commissioner, she's a private eye. She's also a sex addict and a clenched female fist in a world of evil men. Inhabitant of a city where dawn never seems to come and sometimes her only solace comes from the hollow of a bottle.
She's all pulpy and noire yet modern and slick.
She does what she does because out there is a world of broken women, and if she won't help them, if she doesn't take the cases the corrupt city police department won't, then who else will?
A porcelain beauty with a foul mouth. The Woman in the Red Dress with a mean right hook and a shooter's eye. She'll wear pearls and lipstick to seduce you, but you'd damn well better not be surprised to see her in leather pants thigh-high boots when she kicks your ass...
PLAYED BY: Scarlett Johansson:
A classic beauty. You've seen her in pulp roles before and it wouldn't hurt your eyeballs to see her making her way through a diseased city, gathering clues and punching bad guys in the brains.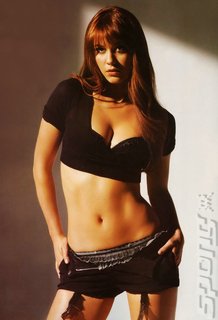 GAME NAME:
Myth Maiden
:
GAME TYPE:
Platform/Exploration (Wii only).
CHARACTER NAME:
:
Jocelyn Ague
:
Nerd, library assistant and sometime-occultist, she knew that the Errant Collection in the Unreal University Library was a fulcrum of the strange, but knowing a thing's strangeness is not the same as Knowing It. It's not the same as knowing that thing is a point of softness in the Multiversal stack. It's not the same as knowing that sometimes, when soft things give way a little too much, monsters come through...
Now she must travel into the aberrant depths of the metaverse, binding The Mythicals ? story memes that form the overarching structures of fiction that define our existence ? and spiralling ever-closer to the rottenness at its dark, bleeding heart.
Slight, raven-haired and with a penchant for goth-wear, Ague is out of her depth and utterly terrified. But she's got a Big Scary Brain and a talent for the arcane, and she really didn't have anything better to do this afternoon, did she? All she wanted was a quiet place to listen to Joanna Newsom and read her bloody book...
PLAYED BY: Mary Elizabeth Winstead:
. Because she is lovely, feminine and gets awesome geek cred for playing Ramona Flowers in the upcoming
Scott Pilgrim
movie.
Images via newcelebwatch and Maxim