Tancred Dyke-Wells is a name and a man to treat with not a little respect. Having dabbled in TV before deciding it wasn't creative enough, he moved into video game design. He has now attained the position of Studio Creative Director at Kuju's London studios. The studio is best known for its development of
Battalion Wars
for GameCube, and the Wii follow-up,
Battalion Wars 2
(
BWii
as it's also know).
We caught up with Tanc' to find out more about him, his role; what Wii development was like... and what games pissed him off.
Enjoy.
SPOnG:
What is your role?
Tancred:
I?m Studio Creative Director; so I?m responsible for overseeing the direction and quality of the creative aspects of all our titles ? game design, artwork, audio and writing. Prior to my current role I was Project Creative Director on
Battalion Wars 1
, which was basically my baby.
SPOnG:
How did you get into the video games industry?
Tancred:
I used to write games for the BBC Micro and Vic-20 as a kid, which is showing my age; then, after University, I worked in television for a few years; but I wasn?t finding enough opportunity for direct creativity.
So, I took some evening classes in
Photoshop
,
Premiere
and various other creative software packages, then answered an ad in
The Guardian
for a Designer. I learnt
Softimage
on that job, and taught myself
3DStudio Max
some time after that. I?ve alternated between art and design roles ever since, or occupied positions which offered the chance to do both.
SPOnG:
What games have you worked on?
Tancred:
BiO/Sys
,
Mission to Mars
(unpublished), several Action Man titles,
Carrera Racing
,
Dune Emperor
,
Fireblade
,
Reign of Fire
,
The Regiment
,
Battalion Wars
,
BWii
and three more as-yet undisclosed titles for Japanese Publishers. Plus large quantities of concept and pitch work. I?ve been in the business about 11 or 12 years.



SPOnG: Which games have most influenced you?

Tancred: Games I?ve personally most enjoyed have been exploratory, free-roaming, third-person action adventures with at least a bit of a sandbox feel. Outcast in particular, the first Tomb Raider, Ico maybe. I also felt the way that the original Tenchu offered the player a really freeform way of approaching every scenario was really attractive; that?s still one of the only games I know of with a boss battle that isn?t confined to a strict arena.

I can?t cite all my influences for Battalion Wars since many of them were not Nintendo titles, but I?m guessing many players will be able to guess at them anyway.


SPOnG: Which games have most pissed you off?

Tancred: Well, if I?m not drawn in by a game, I don?t generally spend long enough with it for it to piss me off; I?ll only look at titles I don?t like for research or comparative purposes. Generally speaking, games that have nothing innovative or fresh about them are a turn-off for me.

SPOnG: What was the thinking behind the design aesthetic of the Battalion Wars? Why go for cartoony characters against a relatively realistic backdrop?

Tancred: Although the whimsical, slapstick animation style of the characters may make them seem more obviously cartoony than the environments, in fact the chunky, toy-like look and feel is consistent across all game elements.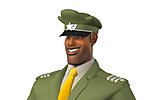 Trust me, our palm trees really wouldn?t sit comfortably in a gritty, realistic war title! Generally speaking, we wanted to create a game universe that was sufficiently playful in style to be an appealing and light-hearted setting for all the mayhem and explosions of Battalion Wars ? but not so flat-shaded, simplified or cartoony as to seem completely facile, childish or unconvincing. We wanted a play environment that was fun, but rich and immersive at the same time.