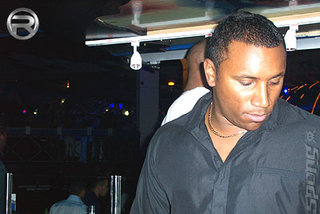 This week on GameStarz SPOnG catches up with Mike Anthony (pictured), DJ, and presenter of 1Xtra's Rampage show (daytimes 11am ? 2pm on BBC Radio 1Xtra).
Mike?s an Ealing (that's west London) boy, who?s been into videogames as long as he can remember. If you ever tune in to his weekly ?get your game on? slot on 1Xtra you will already be well aware that he knows his stuff.
Additionally, as well as gaining a solid following via its 1Xtra show, Rampage also runs the largest static sound system at the Notting Hill Carnival. In between all of that, the chaps still find plenty of time to play
a lot
of games.
Read on to find out more about Mike?s current likes, dislikes and a tantalising tease about a ?secret game project? that he is currently involved in.
SPOnG:
What are your favourite games of the last year or two? And why?
Mike Anthony:
Easy.
Pro Evo 6
and
Rainbow 6: Vegas
. Why?
Pro Evo
lives in my machine and fulfills what most games cannot, a full 12 months of competitive gameplay.
Rainbow 6
is without a doubt great game, the story and the online rock.
SPOnG:
What are your top three favourite games of all time? Any particular memories they evoke?
Mike Anthony:
Defender
,
Asteroids
and
FIFA
. I could never complete the first two and they are the arcade '10p, too young to get in' all time greats.
FIFA
set the bench mark for football sims.
SPOnG:
What are your earliest memories of playing video games?
Mike Anthony:
On the PC, I suppose, playing
Star Trek
.
SPOnG:
Xbox 360, PlayStation 3, PC or Nintendo Wii? Any preferences, and if so can you say why?
Mike Anthony:
If It was just based purely on games, then I would say the 360. However the PS3?..just in terms of everything else it can do, it's such a great, multi-purpose machine. So, I'd have to say the PS3. It really is an amazing machine. Blu-Ray built-in, incredible graphics, solid hard drive, quiet, reliable?..the list goes on.
SPOnG:
If you don't own one already, will you buy a new-generation console in 2007? And if so, which one(s)? Xbox 360, PlayStation 3 or Nintendo Wii?
Mike Anthony:
I have them all :)