This week I was supposed to be reviewing OlliOlli 2: Welcome to Olliwood on the PS Vita and PS4. Now I really loved the first OlliOlli and I even had the developers on as guests for The Sausage Factory podcast so the sequel was welcomed by me (and many others going by the reception it's getting).
So why am I not reviewing
OlliOlli 2: Welcome to Olliwood
? It's because I'm physically incapable of playing it to the degree of skill required to progress in it. All due to my age, for I am 44 years old and the brain signals to my hands aren't what they used to be. So while I know what to do, my hands do not do what I ask of them quick enough.
Clearly this impediment has forced me to realise that while I enjoy playing what I can of
OlliOlli 2: Welcome to Olliwood
the overwhelming sense of frustration eventually comes to the fore and I have to shut off the Vita or PS4 to stop my blood pressure rising too high. Something we older people have to keep in check don't-ya-know!
This is not the first time I have encountered a problem with my hands not working too well in relation to what's happening on the screen.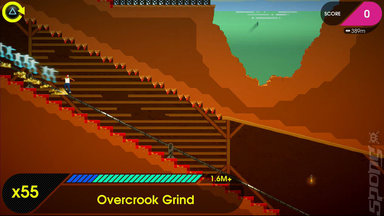 During Play Expo in Manchester last year I was playing an indie game called
A Pixel Story
. This was a platform puzzle adventure game that had the player travel through worlds rendered initially in 8-bit primitive pixel-art then on to more complex 16 and 32 bit renders. Sounds great, only the movement of the character relied upon a significant amount of momentum-based physics puzzles that placed a huge amount of emphasis on well-timed key presses.
I was doomed. I sat there trying to complete a particular section, knowing what to do yet not being physically able to do it. The developer asked me what was wrong and I just told him that 'I'm too old for this game'. He was in his early 20's and didn't understand what I meant, but I explained that he and his team had made a game that many older people won't be able to play as it requires split second timing in order to succeed in it. He was somewhat crestfallen by this, but I explained to him that it wasn't his or anyone else's fault, it's just the way humans are built.
Playing
OlliOlli 2: Welcome to Olliwood
has cast light onto the impact aging has had on me and gaming pursuits I used to enjoy. Games that require fast reflexes have pretty much dropped off my list of games I now play as I have no desire to be frustrated to the point of rage while I play them. This has led me to drift into more sedate experiences, with the likes of
Civilization V
and
Elite Dangerous
being good examples of games that don't demand much on the part of my reflexes in order to enjoy them.
Looking further into the future I see a time when eventually many more games will be off-limits due to my aging, which does sadden me somewhat. As much as I would love to become more proficient at
Street Fighter IV
, I'm not going to kid myself that is ever going to happen. Beat-'em-ups require a phenomenal sense of what is happening and indeed what is going to happen within a 1-2 second period and I cannot react in time to have a meaningful experience with
any
of them, let alone
Street Fighter IV
.
But it's not all doom and gloom. There are many games that cater for older generations. I have no plans to put my gamepad down in favour of a book filled with crossword puzzles and sucking soup through a straw! No, I will still game as long as I am able, it just won't be the likes of
OlliOlli 2: Welcome to Olliwood
that will be entertaining me, I'm very sorry to say.