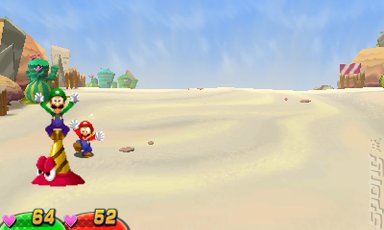 Mario & Luigi Dream Team Bros. is released in the UK today (US August 11th) and has its work cut out to eclipse the excellent Paper Mario Sticker Stars on 3DS.
While this may spark old time gamers to debate which Nintendo role play was the best (surely Super Mario RPG?) those with shorter gaming histories will have already jumped in to play what is a very solid RPG in Mario (and Luigi) form.
I set the Webber family the task of putting the game through its paces. Although it took a while to get beyond the cartoony visuals and derivative rescue-the-princess promise they soon discovered a very solid role play experience.
This picks up where Bowsers Inside Story left off in terms of playing in two realms. Only here itís not Bowsers small intestine we have the joy of exploring but Luigiís dream time. The adds some more inventive ďLuiginaryĒ interactions that complement the now series-standard timing based battle encounters.
In fact Dream Team Brosí trump card is the sheer level of inventiveness at every turn. It offers a drip feed of attacks, character levelling and special items. In this we find more of a hard core RPG heart in comparison to that preferred temporary item boosts rather than character progression.
While some by derive the slightly retro bitmaps character visuals, our test family didnít mind this a bit. In fact they provided so much feedback on the game we were able to create two tips videos to go along with the review:
Dream Team Bros Battle Tips
and
Dream Team Bros Items and Shop Tips
.
All in all, Mario & Luigi Dream Team Bros. is another 3DS game worth checking out. With so many top games piling up on the 3DS it may be a while until you have time to play it though.
----
Andy Robertson is a freelance videogame expert for the BBC and runs the Family Gamer show.