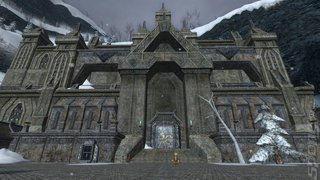 So, Codemasters is taking Lord of the Rings Online to the land of free-to-play. I set out to get the lay of the land with the Mines of Moria, some drunkeness and a muse or two on the nature of 'Free'.
I am a Hobbit. This is what we do.
Lord of the Rings
experience you need to start
The Lord of the Rings Online
in the Shire, as a Hobbit. That's where the book began, with Frodo and Sam, and Bilbo Baggins' birthday, and that's where I began as Ebergrim - a halfling minstrel with a mission.
Charged with delivering a letter to Celandine Brandybuck I was waylaid along the Stock road, first by a Bounder - a Shire policeman - who needed help clearing Odo's Leaf Farm of a spider infestation.
LOTRO
for; and the characters, and the world.
World of Warcraft's
Azeroth, Middle Earth is a familiar, comforting place. Developer Tubine has done its utmost to translate the books to the PC screen. There are no sly nods to popular culture; there's no breaking of the fourth wall. What you see is what you get, and what you see is beautiful.