In my playtest, where I made a comical rock/garage mashup (complete with patented Timbaland beatboxing during a climactic period of silence), I noticed that
Beaterator
gives you a lot more freedom than past console music creation programs. In the ability to take a default sample and completely rewrite it, there lies a lot of hidden depth. But you?ll be hard pressed to be in a position to make your own any time soon, as there are hundreds and hundreds of pre-recorded sounds to throw into your mix, with seven types of synths spanning from Rockstar's own to Timbaland?s official soundbank. Using the PSP 3000?s built-in microphone, you can even record your own voice if you so desire.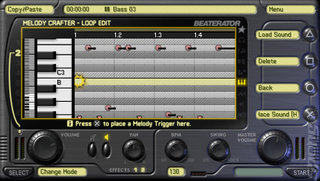 Even though there are three layers to
Beaterator
, you can start your creation from any of them depending on your level of expertise. A lot of people get a bit daunted by complicated menus, I was told by a Rockstar rep, so the idea with things like Live Play is to slowly introduce newcomers to experimenting with music. The result works well, with Timbaland?s so-far inoffensive face being a welcome starting point for rookies.
One of the major features that Rockstar is pushing here is the integration into its recently-launched Social Club, which is a sort of community portal for fans of the house of
GTA
.
Beaterator
takes advantage of any and every method of file sharing and communication, with the ability to upload your creation to the Social Club for others to download and play with; ad-hoc wireless connections to pass your music to a mate; and exporting mixes as .wav files so you can easily import it to other music programs.
Downloadable content is being heavily considered, with ?producer packs? being mentioned during my time with the game. The plan is to offer songs and singles from other big-name hip-hop and pop stars, which you can not only modify to your heart?s content but also install new samples that are used in such DLC packs. It could be a great indie venture for underground and big-name stars, and with Timbaland backing the project there are sure to be some other artists wanting to jump on board.
One of the questions I posed to Rockstar was regarding the uploading of ?homages? from other artists. Interestingly, the studio has no intentions of removing mixes that try to sound a little bit too much like that DJ Shadow or Justin Timberlake track. In an age where developers remove any and all mention of potentially copyrighted material, Rockstar?s position is rather refreshing, and rather fitting of its company name. The only requirement is that players use samples that are from the game ? if beats are recorded via the PSP mic for example, that won?t fly.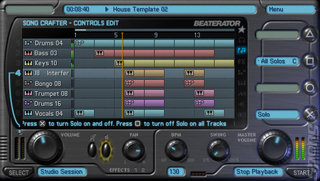 Overall, the game ? sorry, program ? is coming along very well and, with the added bonuses in music-sharing and more advanced tools, seems to give more value to a product that was once freely available on the Internet. If a portable version of a hugely popular music program with added bells, whistles and Timbaland calls out to your wallet, then you can check out
Beaterator
on the PSP when it hits stores in early October.