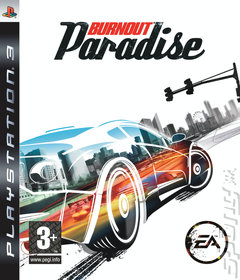 The
Burnout
games have always structured their races as one-offs or linked them together into Grand Prix-style events but each race was held on a separate course that only notionally belonged to a larger landscape.
Burnout Paradise
takes the freeform sandbox approach to game structure and applies it to the street racing genre. The demo of
Burnout Paradise
hit the Xbox Live Marketplace and PlayStation Network Store last week and I've been playing it all weekend, but is it any good?
The demo shows that the sandbox approach works really well. You can pootle around the setting, Paradise City, and take in the sites, noting for example, where there are jumps and where the shortcuts are. You can also practise stunts, crash through billboards and take out passing cars all day long should you wish. When you are ready for a race you just pull up to a set of traffic lights, hold down brake and blip the accelerator.
In
Paradise
you don't have to follow a set course to your destination, you can plot your own route through the city taking shortcuts, making jumps and basically doing what it takes to get to the finish line.
In the demo you have access to a small sliver of Paradise City and three events, two races and a stunt run, which (even for a demo) is a disappointing number. To be honest, though, you won't be playing the demo on your own very often since it allows you to go online and race with your friends and random strangers.
The online mode is one of the most impressive parts of the demo. You press right on the d-pad to open the only menu in the entire game which allows you to create or join a game.
You are then online almost instantly. You appear in the same place you were before, with no loading or screen blank, all of a sudden there are other players in the city with you. The demo limits games to four people, but the full game will allow up to eight in a game.
If you haven't yet downloaded the
Burnout Paradise
demo for your console, I'd highly recommend that you try it out, especially if you've enjoyed any of the previous games. The full game launches on Friday 25th January in the UK and three days earlier in America - expect to see it in the charts the week after!
SPOnG Demo Score: 9 / 10
We welcome reader reviews of demos on all console formats - please send yours to feedback@spong.com - Thanks!