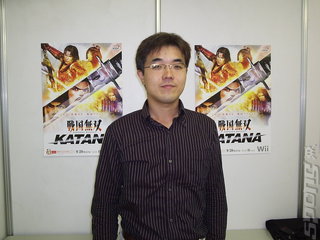 During the Tokyo Game Show in September, it was hard not to notice the massive booth that Koei had in place. As soon as I walked through the main entrance its huge pyramid-like palace was the first thing I noticed; company logo towering on top of the structure to remind passers-by of the samurai goodness that lay within.
Alongside titles such as
Bladestorm
, one of the games getting attention was
Samurai Warriors Katana
, a new entry in the series destined for the Nintendo Wii. Taking a brand new, first-person perspective, players use the Wii Remote to slash their swords, aim at the screen; shoot arrows from crossbows and even throw long-range spears to take on all the enemy troops that stand in their way.
Behind closed doors SPOnG was given a special demonstration from producer Hisashi Koinuma, who has also worked on parent series
Dynasty Warriors
in the past. On face value the game looks like a first-person, on-rails reaction-style offering with a bit of shooting thrown in. However, moving beyond the face and down the torso (value) the differing weapons, multiple missions and additional features (such as horse riding, oh yeah!) seemed to give this game a lot more depth.
I spoke to Koinuma-san after the demo to learn more about the direction of the latest in the feudal series.
SPOnG:
Koinuma-san, thank you very much for your time this morning. First of all, could we get an introduction for the readers of SPOnG ? what made you interested in working on video games?
Hisashi Koinuma:
My name is Hisashi Koinuma and my latest work is
Samurai Warriors Katana
. My other works include
Kessen 3
but I mostly work on the
Samurai Warriors
series.
As for my career, well, I love to play video games (laughs) so it was a natural step for me to want to become a games developer.
SPOnG:
Going back to the beginning of the
Samurai Warriors
series, why did you guys decide to make a spin-off to
Dynasty Warriors
? The two are very similar in terms of style.
Hisashi Koinuma:
My first work as a director was
Dynasty Warriors 3
, and I did some work on
Dynasty Warriors 2
as well, so that may explain why the two series are quite similar. But at Koei we?re very good at making games based around ancient history, as you may have noticed the studio is pretty much dedicated to Japanese culture so we have many games focusing on Samurai and warriors. Because we felt there were aspects of warring history being missed in
Dynasty Warriors
, we wanted to include those elements without detracting from the main focus of the original series. As a result, the two do seem quite similar but provide two different types of historical perspective.
SPOnG:
What challenges did you face when you began work on
Samurai Warriors Katana
?
Hisashi Koinuma:
The Wii Remote (laughs). The motion sensing is the most interesting part of the Wii but at the same time it can be challenging to utilise this feature. Perhaps the most difficult thing about it is building a control mechanism that is both satisfying and accurate.