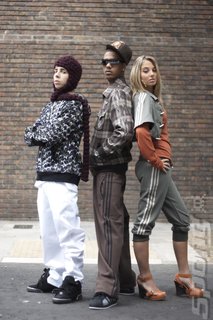 N-Dubz are a popular-music combo who describe themselves as an "underground phenomenon, home-grown, straight from the streets of Camden" and have been spittin' out flavoursome tunes since last year. Not actually spitting them you understand, that would be awful.
N-Dubz are all keen gamers and played at a number of London Games Festival events, pimping their forthcoming new single
You Better Not Waste My Time
(LRC/Polydor Records), natch…
More recently, the group has garnered support from fellow Londoners Sway and Kano and has also been championed by Radio One's Trevor Nelson and chief pimper of other people's 'ridez', Tim Westwood, and DJ Diggz on Galaxy FM
While some in the SPOnG office dismissed the Camden trio as a music industry made-up band (one elderly staffer even going so far as to brand them 'a noughties version of Five Star'!) nothing could be further from the truth as female vocalist Tulisa plus rappers Dappy and Fazer write, record and produce all of their own material - which fits well with the group's mantra "Be Your Own Boss".
N-Dubz are currently working on their debut album, set to drop early next year. SPOnG caught up with them to quiz them about their gaming habits.
SPOnG:
What are your favourite games of the last year or two? And why?
Fazer:
It must have been
Call of Duty 3
on Xbox 360. I really enjoyed that game, I got into that and that was my game.
Tulisa:
I really liked the
Getaway: Black Monday
, but that was until I got to Chapter 15 and the game froze. It must be a scratch on the disc and I'm really peed off 'os it won't let me go further.
SPOnG:
What are your top three favourite games of all time? Any particular memories they evoke?
Fazer:
For me it was
Grand Theft Auto: Vice City
or something like that. That was crazy mad when that first came out, I was well into that.
Tulisa:
Spyro the Dragon
,
Crash Bandicoot
,
Super Mario
and
Mario Kart
on N64. I really liked
Mortal Kombat
'cos I studied like a freak, I learned all the moves of all the characters and I could just mash up anyone, especially with Tanya. You know when you have a repeated move on lock, yeah, and you just keep doing it and no one ever has a chance? And you just keep doing fatality after fatality, so they don't get to touch you, yeah? With
Spyro
I just got so into the giant fantasy world, and it was just so dreamy, and you could fly, and it had all those little mad characters. I don't care how it sounds, I love that game.
Spyro
's the shizzle.
SPOnG:
What are your earliest memories of playing video games?
Tulisa:
Paperboy
!
Fazer:
Nah, forget
Paperboy
:
Moonwalker with Michael Jackson
on the Megadrive…
Dappy:
It was the Master System!
Fazer:
Yeah, the Master System, it goes phat.
Tulisa:
Nah, the first every Nintendo, with the 2D Mario…with Bowser and Princess Peach and the little mushrooms. And
Echo the Dolphin
and
Paperboy
.