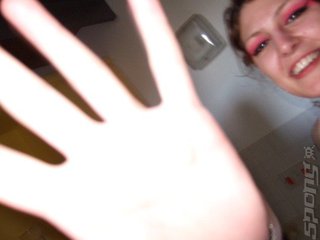 It takes me about five minutes before I strip my character down to her underwear, make her run about the place and dance. I then refuse to get her dressed again. As the blokes try to persuade me, I suddenly flashback to my own childhood and then, as I rub my still-sore foot wounds I nod and put her robe and boots back on. It would probably be a good thing if life imitated art a little more in that respect. Perhaps if my parents had phrased it as, "Pocket, you'll find it harder to level up as you'll accrue more damage." I would have listened a little more. There's something so mundane about real-life danger that I always feel fairly dismissive of it.
After I've completed a couple of quests I find someone else roaming the fields and... they wave at me! Overjoyed, I run over to him, desperately searching for the way to respond, but by the time I find it he's gone leaping off into the distance, leaving me looking more like an abandoned sailor's wife on the pier than someone offering a comradely gesture of greeting. A little while later I see the same guy I, eventually, waved at passing by and dance at him. I'm terribly excited to see the
Napoleon Dynamite
dance strutted back to me! I laugh, sorry, LoL, and he cheers as he leaves on another adventure, but, same of shames, I'm still dancing! I can't stop! I feel the same out-of-body embarrassment that usually hits me for a moment, between drinks, on a Saturday night.
I can't quite get used to not having to run away from people as I fight them.
Soon I find that, again as in real life, I'm appreciating the friendliness of strangers and have gained a little imp minion who follows me around, probably doing more damage to the various foes I meet than I do. To my dismay though, there are so many bugs on the server that I keep dying in unfortunate circumstances whilst either trying to kill impervious wraiths or loot corpses which seem unwilling to give up their possessions. The other
WoW
players in the house are encountering the same problems and the room soon becomes a thoroughfare as people flop onto the bed, bemoan the predicament they've become stuck in, sulk for a bit, and then crack into the cider. Hence my grinding becomes ever slower until eventually it's a full-on piss-up, musically enhanced
*
by Basshunter.
I wake up in the morning, groggy and dry-mouthed with the household kitten licking my eyeballs. I wonder vaguely if this is where I got that habit from, as I was raised as much in the company of cats as humans, or whether he learnt it from me the previous night.
I feel almost guilty about my overall
WoW
experience. For a game which has aroused such an impassioned reaction from gamers I feel an overwhelming sense of neutrality towards it. It's a beige alert. In defence of the game, I didn't get very far with it and didn't even get a chance to join in on a raid. I think I need to devote a bit more time to it before a reasonable opinion can be formed, but this may not come for a while as the wallpaper of my mind which used to say 'Have a wank' now says
Bioshock
, so I'm obviously needing to prioritise before getting too involved with this. There'll be time. One day.
*This may be stretching the definition a bit too far.