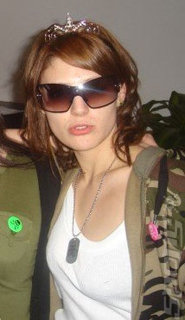 Week off. Mmmm. Lovely. Good friends, touch of Slayer, bit of
Resistance
(though not the French kind - "Do I know you monsieur?"),
Motor Storm
, too many bottles of Disaronno
†
and some guppy love.
My body is a network of multi-coloured, spectacular and often mysterious bruises, though I can say with some confidence that the ones on my hip bones came from doing 'the worm' rather too enthusiastically on a pub floor - or maybe on the tube platform - one of those times, anyway.
As is the way with heavy party sessions
Guitar Hero II
quickly came to the fore, becoming the focus of most game time. This was particularly interesting for me as it was the first time I've had the opportunity to play the 360 version and compare it with the PS2's. The 360 version has 10 extra songs, generally well chosen and coming as a refreshing change from the standard PS2 ones. The crispness of the graphics is lovely to behold if, dare I say, slightly unnecessary in a rhythm action game like this.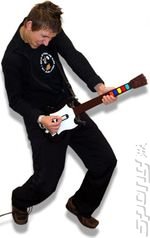 The major difference is, obviously, the guitar itself. I'm in a quandary about this matter. The flash shape and more sophisticated colour are appealing, though they make me feel as if I should be wearing far more spandex and hairspray. I just can't reconcile myself to the size of it (insert 'girls obsessed with size' joke here). There's something reassuring about the size and weight of the PS2 controller, more like a real guitar and less like I'm in a Lilliputian reality, striding across the country with my axe, rocking out to the little people, perhaps in order to entice the rain into falling with the sound waves produced by my awesome instrument. Perhaps this is a gender issue. I can imagine that, as a bloke, feeling like a giant of rock, strutting, legs spread over the plebeians below, must be quite empowering. I'd just be worried that they could see up my skirt.
However, that thinner neck is a godsend for my tiny, girlish hands, encouraging me to try more difficult songs, and on Hard rather than my usual cack-handed Medium. It also seems much easier to deploy Star Power – even without dropping one's pants.
On a fractionally more up to date note, I was introduced to the best comedown game ever.
flOw
is a superlative-inducing, ethereal, tranquil masterpiece of simplicity and understatement. Dreamy music and a sense of the infinite surround your prehistoric circle fish as it dives, swoops and munches through the levels with a relaxed Wii-esque control; like the prodigy of
Pacman
and
Geometry Wars
who's been up doing Diazepam and Ketamine for four days. Cue a series of appreciative "Oohs", "aahs" and slurred directions to 'Get the thing, the… the big thing… bite it!' At a Zen inducing £3 it's a game that'll keep all your more stoner friends happy for hours and will keep you mellow no matter what the world throws at you.
On the other hand, you may need a quick session of Stampa med Leroy (see the video below) to counteract the effects if you need to drive or operate heavy machinery.
Ping pong.
Laundry.
Chernobyl!
† Italian liqueur flavored with herbs and fruits soaked in apricot kernel oil.