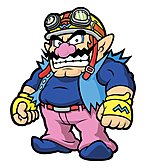 Oh Wario! How many adjectives which mean 'zany' can we think of to praise thee with? Quirky, crazy, madcap, wacky, screwball, bizarre, screwy, peculiar, weird, downright odd... and many, many more. All these goofy descriptive words have no doubt been used time and time again in describing WarioWare games, yet don't come close to conveying the pure joy and immediacy of playing any of the games in the series.
Along with the game's director, Goro Abe, it seems we were not alone in the first thoughts we had when we first heard about the concept of Nintendo's Project Revolution controller, now affectionately known in gaming circles as the WiiMote.
"Oh my god!" It struck us like a genius brainwave. "Think of the possibilities for WarioWare micro-games!" we mused. It clearly wasn't only SPOnG's brainwave though as, coincidentally, this is exactly what Goro Abe thought. And hence, we are standing in a hot hotel in Covent Garden playing the first few tech demos of the Wii's WarioWare: Smooth Moves. Having already had a shot at Wii Sports, we'd saved this one 'til last - what dodgy Thai masseurs might call 'a happy finish'!
We're not being told yet when it's due, but if we were to hazard a guess we would probably say we should be seeing it in Europe sometime early 2007. Of course, we'd like to be proven wrong and get our mitts on it in time for Christmas, but we just don't see that happening. Anyhow, we're not so fussed about that, as we plan to spend most of Christmas day playing Wii Sports,
as you can see from our recent preview
.
The first thing we can tell you with some authority is this; WarioWare: Smooth Moves will be one of the few
essential
Wii purchases as soon as it comes out, alongside
Twilight Princess
and
Super Mario Galaxy
. And
Metroid Prime 3: Corruption
. Oh yes, and
Super Monkey Ball: Banana Blitz
. And
Sonic Wild Fire
.
Crikey, when we look at it like that, we realise why we at SPOnG, along with pretty much every other gaming media outlet, have be getting increasingly excited about the Wii. In six to eight months time we will hopefully be the proud owners and players of most if not all of the aforementioned games. By that time, the GameCube will be fondly remembered. We will be referring to it as "the new Dreamcast"!
Back to WarioWare: Smooth Moves. WarioWare games are the perfect party games for our attention deficit disordered culture. The premise is simple; a Terry-Thomas inspired Wario stumbles upon a strange book and a funny little device which he calls 'a form baton' (yes, you guessed it, it looks suspiciously like the WiiMote).
The mustachioed one and his bunch of kerrr-azy mates then go on to use the form baton to learn a bunch of new moves to help them play any one of over
two hundred
super-fast micro-games which Smooth Moves throws at them.