Games Database
PC
Puzzle
Jewels of Cleopatra Double Pack: Jewels of Cleopatra I & II

-

PC

Also known as: Select Games; Jewels of Cleopatra Double Pack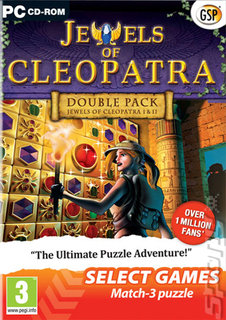 Viewed:
2D Static screen
Genre:

Puzzle

Media:
CD
Arcade origin:
No
Developer:
Encore
Soft. Co.:
Encore
Publishers:
Avanquest (GB)

Released:
8 Feb 2013 (GB)

Ratings:

PEGI 3+
Summary
Puzzles, mini-games and match-3 madness!

Explore your way through the Valley of the Kings to recover rare Egyptian artefacts before the crooked art dealer Shady gets them. Discover hidden tombs, dodge creepy pests, and find Cleopatra's treasure. Unlock chests filled with items that will help clear obstacles from your path. Are you up to the challenges held by the Jewels of Cleopatra?

Discover the ruins of the Aztec Empire in this all new Jewels of Cleopatra puzzle game. Nefarious thief and Felicity's arch-enemy, Shady McGrady, is out to steal the Aztec princess' jewels...unless you can reach her secret tomb first! Use the innovative Match-3 Exploration system, first introduced in Jewels of Cleopatra, to guide Dr. Turnstone on her quest. Match jewels to clear a path through 65 unique levels across five mysterious Aztec sites. Choose the best paths as you traverse dark chambers filled with puzzling mini-games, water traps, tumbling rocks, and sticky spider webs. Can you rise to these challenges, and reach the tomb first?