Games Database
Mac
Strategy: Management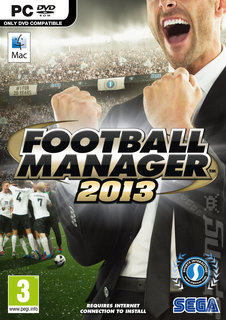 Also for:
PC, PSP
Viewed:
2D Static screen
Genre:

Strategy: Management

Sport: Football - Soccer

Media:
DVD
Arcade origin:
No
Developer:
Sports Interactive
Soft. Co.:
SEGA
Publishers:
SEGA (GB)

Released:
2 Nov 2012 (GB)

Ratings:

PEGI 3+
Summary
Football Manager returns for the 2012/13 season with more changes, tweaks and updates than an England team after a 'period of rebuilding'. For the uninitiated, as the name states, this is not an on-field soccer game like FIFA or PES, this is about the nitty-gritty of team and resource management.

It may seem strange to call an all-new game mode "Classic mode" (or 'FMC' as it's become known within the offices of developer, Sports Interactive) but this is one of the key additions to the game and the long running series.

The Classic or FMC mode is essentially a way to get into the meat of the game quickly. It offers a less time-consuming way for players to approach the game by simplifying the ways in which players manage their club. This 'cut down' version basically enables the gamer to focus on the nuts and bolts of taking their squad of players from the lower leagues to the heady heights of football domination.

FMC enables players to distill their Football Manager experience – wherein a full season can sometimes take days, weeks or even months – to a point where a full season can be played out in eight to 10 hours.

FMC offers two distinct ways to play: firstly there is the open-ended season in which the player leads the team in free-form style. Then there is the new Challenge mode. In Challenge mode the player faces a unique scenario that has been specially designed to test his or her management skills over a set period of time – usually half a season.

The key here is that the challenges have also been designed in order to emulate a variety of real world circumstances such as winning the league "with kids" a la the challenge laid to Man Utd by BBC pundit Alan Hansen. Another challenge could be to take a team that anchors the league table on Christmas Day out of the relegation zone by season end.

FM13 comes with five such challenges included, and more will be made available throughout the year, depending on the level of demand from players around the world.

Aside from these new modes and play styles, the game's look and feel has been tweaked and improved, and gamers familiar with the older and lengthier seasons with their regular updates and challenges will be able to start playing as expected.
Similar Titles

Like a pop star, a showbiz celebrity or a philosopher, the manager of a football more >>

Anco and Ubi Soft must have been more than a little worried when Sir Alex more >>
View all similar titles (13) >>
Related Games

The footballing world is your oyster in Football Manager 2005 (FM2005) and with the game more >>

Football Manager 2006 is a comprehensive soccer management simulation offering a host of new features, more >>

Developed by Sports Interactive, Football Manager 2007 (FM 2007) boasts more than 100 new features more >>
View all related games (25) >>