Games Database
Wii
Sport: Hunting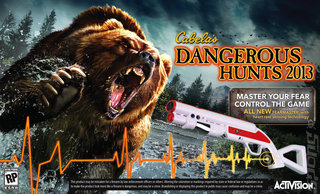 Also for:
PS3, Xbox 360
Viewed:
3D First-person
Genre:

Sport: Hunting

Media:
DVD
Arcade origin:
No
Soft. Co.:
Activision Blizzard
Publishers:
Activision (US)

Released:
26 Oct 2012 (US)

Ratings:

PEGI 16+
Summary
Some people get a thrill from walking through a quaint and tranquil countryside. Some like to get their kicks from something a little more... dangerous. Something like hunting down ferocious animals. That's where Cabela's Dangerous Hunts 2013 comes in - instead of going out there and risking your real life, you can go out and stake a virtual one.

There is a method to all this hunting though. The story, penned by Andrew Kreisberg, is one of two brothers whose relationship breaks down following the death of their father by a grizzly bear. Ten years later, the two siblings reunite for "the hunt of their lives".

As well as a touching tale of brotherly love, Cabela's Dangerous Hunts 2013 includes a new Maneater mode which allows two players to work co-operatively to fight off waves of killer beasts. AI is now smarter than ever before - forming social hierarchies, co-ordinating group tactics and using the environments to their advantage.

Cabela's Dangerous Hunts 2013 also takes advantage of the new Top Shot Fearmaster wireless controller, which features a heartbeat sensor to immerse players into the game. Projecting your own heart rate into the game, controlling your fears in real life will allow you to increase your accuracy on the screen.
Related Games

It is 2008, and controversy and gaming go hand in hand. There's another Grand Theft more >>

Cabela's Dangerous Hunts 2011 sees gamers hunting down and killing animals in Uganda. Be warned more >>
View all related games (16) >>