Games Database
3DS
Strategy: Management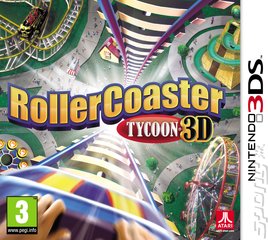 Viewed:
3D Combination
Genre:

Strategy: Management

Media:
Cartridge
Arcade origin:
No
Developer:
n-Space
Soft. Co.:
Atari
Publishers:
Namco Bandai Partners (GB)

Released:
26 Oct 2012 (GB)

Ratings:

PEGI 3+
Summary
RollerCoaster Tycoon 3D sees a much loved but somewhat neglected gaming classic crossing time and platforms to make its appearance on the Nintendo 3DS. Developed by n-Space ( "Toy Story 3" (DS) and "Duke Nukem Time to Kill" (PlayStation) to name just two of its games developed since the late 1990s) the game challenges gamers to create and maintain super-awesome, complicated and fun rollercoasters.

The game on 3DS carries the heritage of its first incarnation way back in 1999, when Chris Sawyer's original RollerCoaster Tycoon brought them park management to the PC and home gamer.

The Nintendo 3DS version not only has the heritage, it also incorporates the unique features of the handheld console including a game mode called "Coaster Story", which is new to the series. This mode includes both challenges and tutorials that enable the gamer to get the most out of their Roller Coaster 3D experience. Threaded together with a narrative written to take the gamer from newcomer to experienced tycoon ready to take on new create challenges the mode also comes with lots of unlockable content with which to go forward.

All of this is played out in a fully first-person view for the rollercoaster rides themselves, which use the 3D display to fully immerse the gamer. The core of the game, of course, is to create the rides themselves. Achieving this – and also ensuring that the theme parks in which they are housed are up to snuff requires skilled use of the stylus and the touch-screen interface. Gamers can also use the Gyro sensor to look around their theme park by tilting their Nintendo 3DS.

There are also social elements to the game including the ability – as in real life - for the player to take a snapshot of themselves on a ride and then share it with their friends.

StreePass also enables the gamer to invite Mii Plaza friends to look around their theme park.
Related Games

As the latest edition to the popular "Tycoon" series from Hasbro Interactive, Rollercoaster Tycoon gives more >>
The original Rollercoaster Tycoon made its PC debut back in 1999 to an audience of more >>
View all related games (17) >>