Games Database
PC
Platform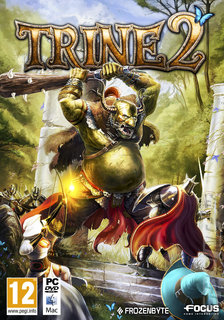 Also for:
Wii U, Mac
Viewed:
2D Side-on, Scrolling
Genre:

Platform

Puzzle

Media:
DVD
Arcade origin:
No
Developer:
Frozenbyte
Soft. Co.:
Frozenbyte
Publishers:
Lace Mamba (GB)

Released:
16 Dec 2011 (GB)

Ratings:

PEGI 12+
Summary
Developer brings Frozenbyte the sequel to 2009's much loved Trine with Trine 2. The Collector's Edition includes full versions of both games in the form of a Steam downloadable copy of the first Trine game (Steam membership is required) and Trine 2 on DVD-ROM, as well as an artbook and a soundtrack CD.

Trine 2 features the first game triumvirate of Zoya the Rogue, Amadeus the Wizard, and Pontius the Warrior and sees them in a new adventure with action and puzzles in co-op three-player modes.

For the first time in the series there is also online support.

The game mixes 23 levels of old-school platforming with a new physics engine for additional and up-to-date tricks and treats.

In single-player mode, each of the three characters can be instantly swapped between them to solve the game's puzzles, using each character's abilities. Old hands at Trine will also notice each of the characters also has new powers to choose from.

Set in a colourful, medieval fantasy world the game also incorporates an orchestral score composed and recorded by Ari Pulkkinen and his team at the award-winning studio AriTunes (Angry Birds).

As well as single player, Trine 2 also has online and LAN co-op modes for up to three players.