Games Database
PS3
Compilation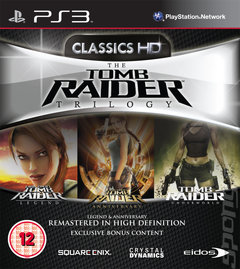 Viewed:
3D Third-person, over the shoulder
Genre:

Compilation

Adventure

Media:
Blu-Ray
Arcade origin:
No
Developer:
Crystal Dynamics
Soft. Co.:
Square Enix
Publishers:
Eidos (GB)

Released:
25 Mar 2011 (GB)

Ratings:

BBFC 12
Summary
Three Tomb Raider games, one Blu-ray disc. In The Tomb Raider Trilogy, you get Legend and Anniversary for the first time on the PS3, along with the return of Underworld.

With Legend, Lara is searching for a South American relic, but everything changes dramatically when she comes across a deadly character from her past - the peroxide-blonde, tattooed Amanda Evert - and then finds herself in a dangerous pursuit to find one of history's most famous artefacts. Her new quest will bring her to ancient realms that guard Secrets of the Past, so get ready for some interesting revelations.

Due to Lara's unquestionable athletic ability, in Legend she can perform signature moves while still firing her dual-pistols. She also has the ability to handle any obstacle in her path due to a dynamic animation system that places the focus on constant motion. There is a whole host of beautifully-rendered and mysterious locations throughout the game, which include formidable jungles, snowy mountain ruins and many others that really add intrigue to the game.

Anniversary, meanwhile, brought the original Tomb Raider back to our screens, but remade for current-gen consoles. Once again Lara's on the trail of the mythical object known only as the Scion at the behest of a powerful syndicate. She's not best pleased, however, when she finds that she's being used as a pawn in a dangerous game. With that in mind, she takes it upon herself to find out just what the crack is.

From there on in, its all exotic foliage, hidden temples and perilous tombs. You'll find classic environments from the original with added depth and realism. While the core of the original is kept intact, many of the puzzles and challenges have been taken in a new direction. So if you're one of those people who's memorised the original frame by frame, you'll still find something new here.

Then we've got Underworld, which kicks off with Croft Manor burning down. There's a good mix of action and grey matter-bending puzzles, but the focus in Underworld is to truly make it your adventure game. If it hurts when you think, and therefore you don't like the puzzle element, there's a handy hints system that provide tips to overcome your current situation.

When it comes to combat and exploration, there's been a few improvements there, too – most notably the introduction of the "Adrenaline Moments", which replace the quick timed events that pit Lara in a life or death scenario. The camera angle pans to a more dynamic view and you have free control to escape the situation before you die. Similar slow motion moments can be found in attacking enemies, where your shots will become more powerful and can even land one-hit-kill headshots.

That's plenty of Lara to have a go at!
Related Games

In Tomb Raider, you assume the role of a beautiful archaeologist, Lara Croft. She is more >>

Tomb Raider 2's textures have been given a larger library than the original, making it more >>
Tomb Raider 3 for the PC is an action packed adventure game starring Lara Croft. more >>
View all related games (54) >>