Games Database
Xbox 360
Rhythm: Sing-Along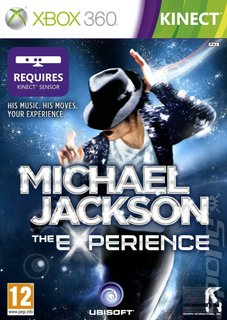 Also for:
PSVita, 3DS, Wii, PS3, DS, PSP
Viewed:
3D Third-person, floating camera
Genre:

Rhythm: Sing-Along

Rhythm: Dance

Media:
DVD
Arcade origin:
No
Developer:
Ubisoft
Soft. Co.:
Ubisoft
Publishers:
Ubisoft (GB)

Released:
15 Apr 2011 (GB)

Ratings:

PEGI 12+
Summary
Dance games? Pah. Small time, all of them. Like the music video and, well, dance routines in general really, you can't have a complete dancing experience without being able to jam along to the timeless classics of the King of Pop, Michael Jackson. It's taken the music star's unfortunate passing to make it happen, but now fans the world over can learn how to do that Billie Jean strut in Michael Jackson: The Experience.

Get to grips with decades worth of iconic dance routines against backdrops representing authentic locations from the music videos you remember so well. A huge selection of songs from the Jackson back catalogue are available for you to rock to, including Bad, Beat It, Billie Jean, Black or White, Don't Stop Till You Get Enough, Earth Song, Smooth Criminal, The Girl Is Mine, They Don't Care About Us, Who Is It and Workin' Day and Night.

Take on all of Michael's classics on your own and be your own King of Pop, grab some friends and enjoy the music together, or get some practice on that foot-breaking leaning thing from Smooth Criminal in Michael's School Mode. And of course, as you get to Moonwalk through the songs, you have the opportunity to sing along to the tracks too!
Similar Titles
Get fit and have fun at the same time with Dance Dance Revolution on the more >>
Take centre stage and wow the crowd with your performance as SingStar arrives on PlayStation more >>

Troy and Gabriella may have been afraid to sing in front of their friends and more >>
View all similar titles (24) >>
Related Games

Ubisoft's Experience franchise has already starred the late Michael Jackson. So far the franchise has more >>

How would you like to be the next hip-hop star? Well, if reality TV seems more >>