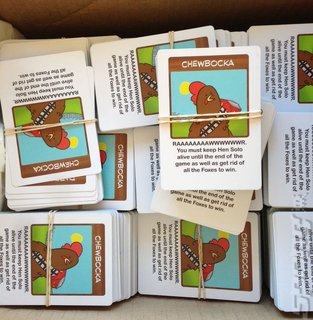 I am surrounded by boxes. Loads of boxes, stacked high around my living room and the rest of my house, filled with game stuff. This is actually a pretty normal occurence, of course – while most of my games are stored in what is laughably referred to as our second bedroom, they do have a tendency to sneak into other places. Today though?
Things are a bit different. These boxes don't contain stuff for me to play. These boxes are filled with the components for my little games company's first release,
Fox & Chicken
– and now it's down to me to get them into the hands of the players.
I am feeling a mix of emotion. I feel pride for the fact that we've managed to run a
successful Kickstarter campaign
to actually get the game made.
We started with little more than an idea and a hand drawn prototype and ended up with nearly seven grand sitting in my bank account (most of which is now gone, of course). A storm of emails filled with files and instructions were send out to places all around the country, chunks of money were paid out and now – finally – almost everything has come home to roost.
I am nervous. I now have to collate everything, making sure that each of our four-hundred and thirty-three backers get precisely what they paid for. You wouldn't even call
Sprocket Games
a fledgling company – it's me and my wife, and while she still works a proper job it comes down to me to do all the picking and packing stuff. I know what kind of person I am – I must check, check and check everything again – and I know that things will be OK. I know that I'd sooner spend twice the time making sure everything is done properly rather than going through it all once and risking missing something. I want this to be perfect.
I am amazed. Amazed at the fact that we've managed to turn around our project in a matter of weeks rather than months. Being the type of person who wants to make sure everything is going alright, I made the choice to use companies based here in the UK rather than go abroad. Sure, it pretty much doubled our production costs, but we decided to go for building reputation rather than profit with our first release. By getting everything sorted quickly, we hope that people will see that we're serious in bucking the usual trend of Kickstarter campaigns taking huge amounts of time and that they'll consider backing our future projects.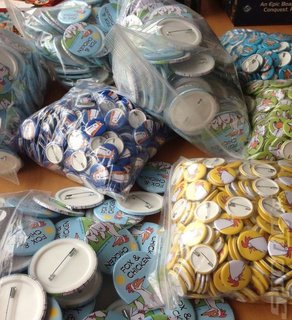 I am delighted. So delighted that everything has come together and looks so good. The cards are clear and bright, with Steph's illustrations popping off the paper. The badges are gorgeous. The bonus sketches ooze with charm and humour. Hell, even the instructions are great to look at. And this is all from stuff that we put together, things that we wrote and drew and developed ourselves. We've made something, and it's gorgeous.
I am worried. That's nothing new, I'm in a near constant state of fretting about something thanks to my dumbass brain chemicals, but even though I realise that such worrying is undoubtedly down to that, it's hard to stop my mind from telling me that everyone will hate the game when it arrives on their doorsteps. Sure, I've learned over the years that there will always be detractors and not everything you do will be adored by everyone, but the old cliched idea rings true: it's only the bad reviews that you remember. I have to do better at listening to the positives. I have to learn.
I am humbled. The support we got when making Fox & Chicken was incredible, not just from the folks who chucked their cash at us. Even if you couldn't afford to back us, talking about the game was just as valuable to me. We fostered a little community that helped us make something that to an outsider could seem insignificant – it's just a little card game, after all – but to us? It was so much more than that. It's the start of a dream come true, the chance to fight and fend for ourselves, to not have to sit in an office working a job that we hate. We're halfway there – I'm now essentially working on games full time, so the next step is to set Steph free. And you know what? We reckon this is entirely possible, and sooner rather than later too.
I am, most of all, positive. And of everything I'm feeling, this is probably the most curious emotion of them all, a somewhat strange and alien concept that I'm really not used to. Now that we're coming to the conclusion of the Fox & Chicken chapter of our lives, we're looking to the future. Hell, we've just announced that we're going to be putting out another game from another designer later this year. While Sprocket Games was never meant to be a vanity project, a way to solely produce stuff that I'd designed, I never would've thought this time last year that we'd be working with other people so soon. We're still taking it simply, walking before we run, but for once... we're making plans. Plans that we know will work.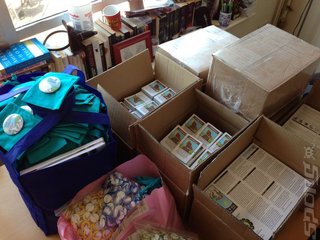 I am surrounded by boxes, stacked high on the table in front of me, filled with cards and bags and instruction sheets and badges and card sleeves and stickers. I've got so much work in front of me, so many padded envelopes to be labelled, so many little thank you notes to include with games that are going to be sent all around the world.
And I am
excited
.
Read more of Michael's mighty columns here.