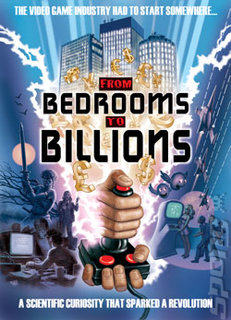 Filmmakers Anthony and Nicola Caulfield are looking to crowdsource a second round of funding for their documentary about the early days of the British games industry.
They're looking for a further £18,000 to supplement the $37,027 they raised with their successful
Indiegogo campaign last year
. The pair aims to cover the history of the British industry from 1979 through to the present day, with commentary pulled from over 50 hours of interviews with industry figures such as David Braben, Jon Hare and Jeff Minter.
The film's Kickstarter explains, "...as is common with many films financed via crowdfunding, money is now needed to complete post-production, to secure archive footage, stills, music usage and clearances. Without these crucial elements the film would simply be 2 hours of talking heads and not the true and lasting documentary movie experience that the subject matter deserves."
The film was first announced in 2010, with the scope initially purported to be the birth of the global games industry. Since then the subject matter has been narrowed down to the UK industry, while the runtime has gone from a predicted 90 minutes at the time of last year's Indiegogo campaign to two hours.
You can
see some outtakes here on SPOnG
, and catch our interview with Anthony Caulfield
here
and
here
.
You can fund the film through Kickstarter
here
.
Comments
Posting of new comments is now locked for this page.
Polls
E3 2013
Are you excited about E3 2013?
About what?
Cannot wait!
Not bothered.
Other - Tell us in the comment after voting.
comments>>
more polls >>