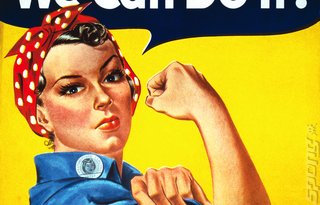 The next Consumer Electronics Show isn't due until January 2014. That's plenty of time to implement a ban on booth babes and the female degradation that it represents, right? Nope! The show's organisers, the Consumer Electronics Association, has said that an outright block would be "unenforceable."
'What a load of bollocks,' you might think. And you might be right. Besides a little bit of 21st century thinking and planning, we can't imagine a good reason why the CEA can't strike out the practice entirely. Unless of course, such a ban would result in reduced interest from potential exhibitors - but that would be pure speculation on our part.
Instead, the CEA is reportedly pussy-footing around the issue. According to
PCR Online
, the organisation will be amending its guidelines ahead of the 2014 CES and will "warn exhibitors over their use of booth babes stating it may reflect badly on their business, and that any use should be given 'thoughtful consideration'". Riiiight.
Booth babes have been a hot topic for the industry as of late, with E3 under pressure to force exhibitors to cover up their show floor ladies. Eurogamer Expo has declared a ban on the practice, after uncomfortable attendees complained about one exhibitor's troupe of booth babes and the dress code used.
Comments
Posting of new comments is now locked for this page.
Polls
E3 2013
Are you excited about E3 2013?
About what?
Cannot wait!
Not bothered.
Other - Tell us in the comment after voting.
comments>>
more polls >>