Barack Obama Calls for Careful Research into Violent Video Games
Proposes broad gun culture law changes.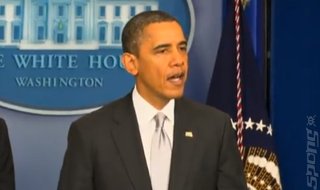 US President Barack Obama addressed his nation last night to discuss the growing concern of gun culture, and has urged Congress to fund further research into the links between violent media and its effects on young minds.
Such research includes a new study into the potential side-effects of video games which appear to glamourise gun culture. "We don't benefit from ignorance. We don't benefit from not knowing the science," Obama said.
"This is our first task as a society: keeping our children safe. This is how we will be judged, and their voices should compel us to change." Some $10 million is expected to go towards funding such research, with a portion of that dedicated to video games.
The ESA, the country's game industry association, replied that the media sector "has a responsibility to give parents tools and choices about the movies and programs their children watch and the games their children play."
Obama also called for proposed sweeping changes to gun control laws. The announcement follows US
Vice President Joe Biden's meeting with video game creators
to discuss the matter of gun control, in the aftermath of the
tragic Newtown primary school massacre
.
The National Rifle Association, which has placed the blame for the tragedy squarely at the feet of violent video games and media, and
which has released its own shooting game on iOS
, condemned the announcement.
Here's SPOnG's thoughts on the matter
.
Comments
Posting of new comments is now locked for this page.
Polls
E3 2013
Are you excited about E3 2013?
About what?
Cannot wait!
Not bothered.
Other - Tell us in the comment after voting.
comments>>
more polls >>